Hey girls!
Let's say that you are at the point when you should meet your boyfriend's parents. It's stressful enough that you have to worry about all sorts of things like what to talk about and if they would like you, so I thought of giving you a few guidelines of how you should dress.
1.First of all, consider simplicity and charisma as your 2 best friends
I know it has nothing to do with clothes so far but they should be the main starting tips.
2. You want to look fresh and well-dressed but not too glittering or eccentric. Don't just forget about your style, but take it to a next level, a more serious one.
3. You need to give the impression that you've got good taste when choosing things so focus on accessories and try to let them tell a story about you (eg. some jewelry that was in your family for a long time or some special pins – they don't need to be expensive but unique)
4. You should wear heels. I think you would stand straight and heels also make you make confident and aware of your qualities! I mean it!! It's tested!
5. Don't smile too much, don't talk too much, try to say the right words. Answer questions or ask discreet questions if you want to know more information. Things should be relaxed, try to make them feel comfortable around you. Beauty products are essential here. Wear a classic perfume and natural makeup. Nobody likes to meet a faux-looking girl.
6. Don't show too much skin. If you choose to wear a dress or a skirt, you shouldn't choose a top with a big cleavage. Actually don't choose to show a lot of cleavage whatsoever. Choose something with a classic cut.
7. Occasion is essential!!! Adapt your outfit for the time of day and location of the meeting.
There is the casual get-together where you would go out to lunch or for some drinks. Here you should try to wear comfortable and casual-chic clothes, improvise a bohemian look with a scarf or some hair accessories or try a nice look with some ankle boots and jeans.
1. Handbag – try something large and suitable for day, this one is Chloe available on BBS 2. Cool Casual ankle boots – these ones are from patent leather Charles David Mingle 3 A nice special top. You can find a wide range of decent unique tops on Forever21 or Oli 4. Skinny jeans – black or something conservative, no pockets, no boot-waist, remember keep skin off limits 😀 5. Choose a coat with attitude, go for plaids or something with a good fit and nice buttons.
The Formal Outfit is definitely a more difficult one. Here all the details count and you should be careful not to forget something.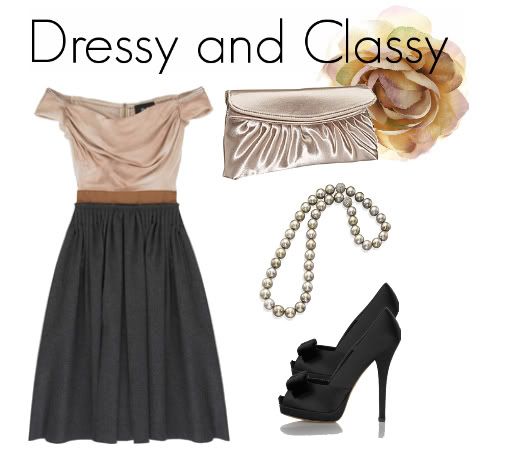 The dress – You can choose a little black dress, or a more special dress. However, for evening-wear black remains a classic. The shoes – Select matching accessories and go for a beautiful pair of stilettos made from a silky fabric, these ones have a velvet bow. Try to focus on quality of the pumps rather than on the price. The purse – should be a small clutch with a shinny look or embellished stones for an extra glam touch. The accessories need to be discreet and matched with the attitude of the entire outfit. Choose vintage pearls or a pendant necklace.
Remember, parents have a big word on the way your relationship will grow, so you have to make a good impression. For more tips get informed here and here.
Kisses!