Hey girls! Today's question is what would you go for when wearing the destroyed jeans trend. I love them with flats but I can't stop staring at the heels.
Well, I think it depends on where you are going. For example, if you are on a shopping spree or you have a long day around town, you need to have something really comfy on or you'll end up with painful legs.
The shoes – The patent ballet flats are still cool this season. Navyis really stylish and it goes perfectly with lighter jeans. Love the little bow. (available on SimplyShoes.com )
The jeans – Straight, light distressed jeans for a casual look. You can bend them above the ankle to get the look of Katie Holmes or Sienna Miller.
The top– Pink-ish and nude shades are really hot this season so make sure you have them in your closet. Get 1 size larger top for extra glam.
The accessories – Go for golden tones and a nude tote if you want to ballance the whole outfit. You can also add some highlights with black bangles or a skinny belt.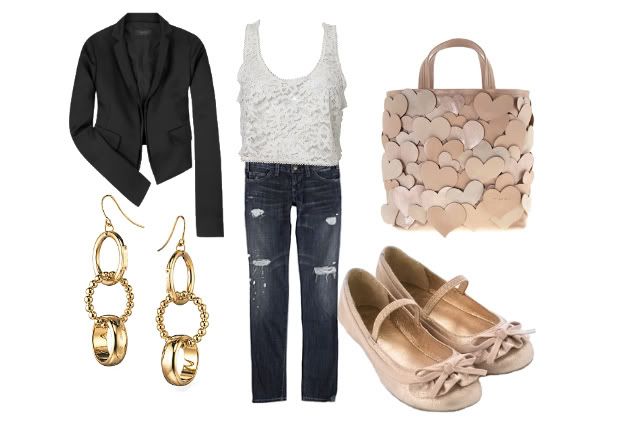 For a smarter casual look pick coordinating accessories and keep your jeans darker. You can choose a blazer to highlight your style and waist as well as a tucked in top.
The shoes – Iridescent Pink Ruffle Flats from Monsoon make you feel very chic and the ruffles are so hot this season.
The jeans – These Skinny Loved Jean are some darker jeans that I love and they are just perfect to go out and enjoy a movie or a casual meeting. You can find them at La Garconne
The top – I love the embroidery on this Lace Cropped Top, it's special and lace is really cool right now. This one is from Topshop.
The accessories – If you want to keep a more serious look try coordinated accessories like nudes and golden tones. I loved this collage bag from Barney's and the D&G Gold Ring Earrings which I found on eluxury.com
Oh and I almost forgot,
The Blazer – I really like this piece. It's sort of on my wishlist. Calvin Klein Meghan cropped tuxedo has a really gracious style, makes you feel dressed up and sexy.
Tomorow, Sexy jeans outfits!