We take a look at celebrated UK label Coast and the trends for dresses which will have us ogling our screens in 2012
With the parties and sparkles of the Christmas period a dusty memory, and little to look forward to apart from the summer, if it comes, this time of year can leave a lot to the imagination. Why not take advantage of fabulous sales reductions and pick up some bargain wardrobe items which will last way beyond the damp squib of Valentine's Day!
We've been particularly enamoured with the range of beautiful evening dresses from Coast, styles include shorter length, prom-inspired pieces to Oscar-worthy elegant, floor-length gowns…if only we had an invite! Here are a few key trends and looks to keep your eye on:
Florals and feminine details
Coast's Monet Dress and Georgia May Duchess Satin Print Dress (center) embraces one of the spring's key trends – painterly florals – and elegantly translates this theme into an evening context. These styles are absolutely gorgeous, and the rich fabrics and deep colours combine to create the perfect amount of after-dark drama. Look out for intricate ruched details and tiny capped shoulders for that extra feminine flair.
Longer lengths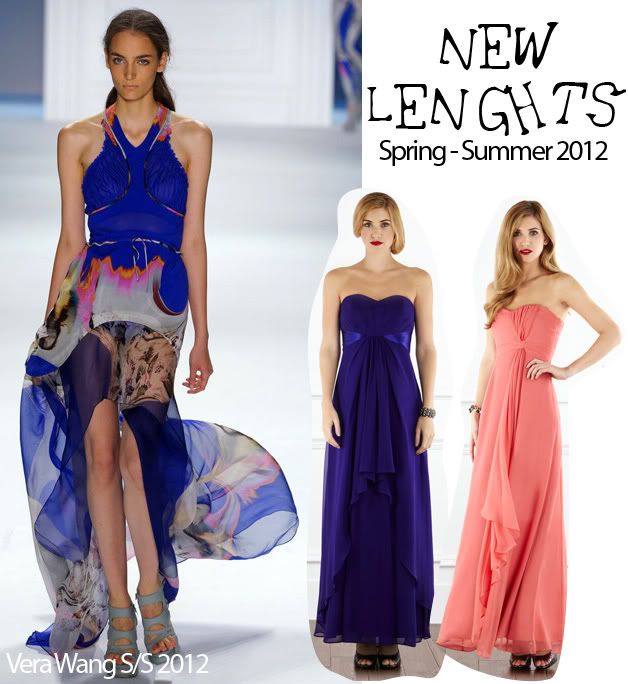 It is safe to say that 2012 is going to be the year of the Maxi. Floor-length bandeau style maxi dresses are the hottest evening dress trend and Coast's Revello, Michigan and Symphony maxi dress styles are beautiful examples of this dreamy aesthetic. Not to mention that we're stepping into a lighter and brighter 2012.
Spring looks set to bring clean, aquatic inspired hues of blue to the forefront. Think cobalt, indigo and azure. Coasts dresses span the blue spectrum with designs in dark navy all the way to fresh Atlantic tones.
Don't you think it's a wonderful way to look forward to the summer?
We sure do!