It's never easy to be gorgeous on a date, but if your special someone is taking you to some fancy restaurant or club, this is a good way to shine :). Black is back this fall, but it doesn't have to be matched with anything else. You'd think : This is easy!…and maybe it is! Here are a few tips so that you'll get the perfect Black Elegance.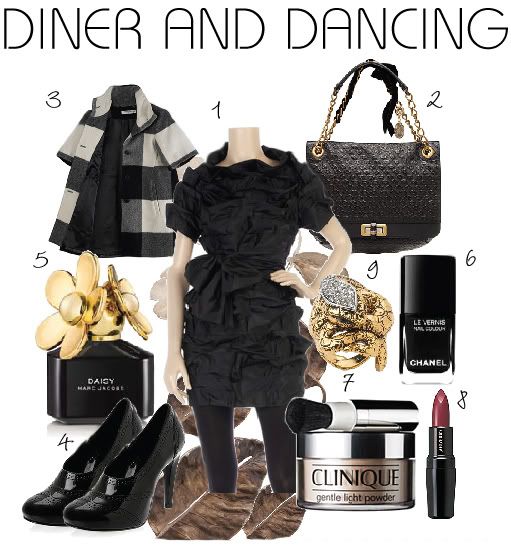 Item list: 1 Ruffle dress – Moschino from NAP. 2. Small stamped leather bag – Lanvin available on Browns. 3. Classic Flare Coat – La Garçonne 4. Patent leather ankle-boots from Guess. 5. Marc Jacobs | Daisy 6. Black nailpolish – Chanel both from Sephora. 7. Light face powder from Clinique. 8. Shiseido The Makeup Perfecting Lipstick from Bloomingdales 9. Snake ring – Vivre.
I like the ring beacause this season we can rediscover statement jewelry, especially generous rings or necklaces. The dress is really amanzing, the ruffles are still fashionable and remember to wear it with some solid black thighs.
Don't forget to have fun!