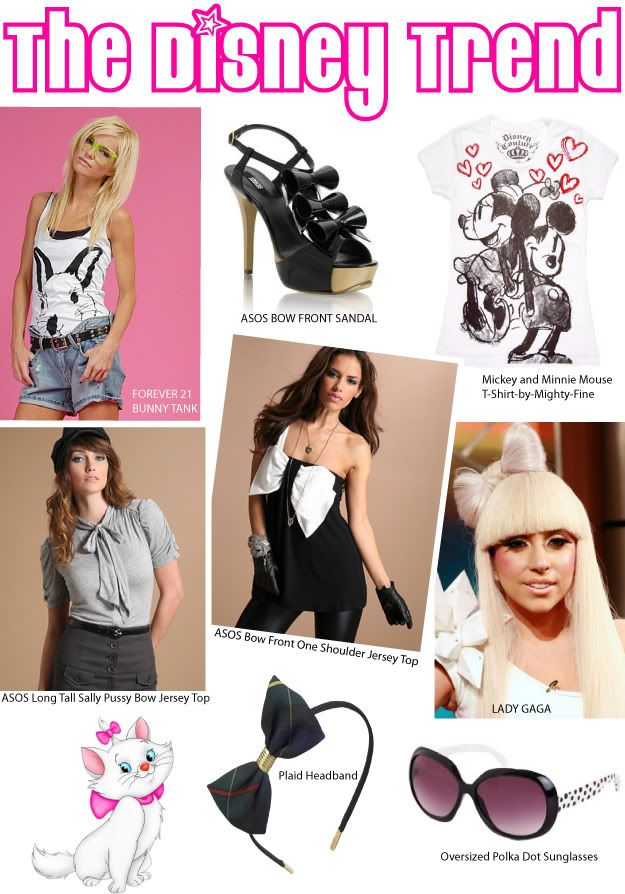 I'm sure you all noticed the mouse ears headbands and cartoon prints until this season but the summer 2009 will be the peak for this trend. I really like it, it's easy to wear actually! It makes me feel younger and sillier
Lady GaGA gets the look by wearing a really cool hair bow style but you shouldn't try too much, just get and oversived bow headband instead.
You can wear Mickey Mouse Tees for a casual attire and match it with flats or even high heels if you are going out for drinks with some friends. I've spotted a picture of Rihanna (see the picture here) and she was wearing a skinny grey Mickey Mouse T- shirt with skinny dark jeans and heels and she looked really cool.
How to get the look :
big Disney character pattern on a tee or a hoodie (anything works! Just spotted Agyness Dean with a Bambi Tee :)) Other cartoon figures also do the work : bunny, mice, squirrels )
bow headbands
dots
pussy bow tops and oversized bows on dresses and tops like the Aristocats characters
bangs
colored sunglasses
1.Plaid Bow headband 2.Mickey and Minnie Mouse T-Shirt 3.Oversized polka dot Sunglasses 4.Long Tall Sally Pussy Bow Jersey Top 5.Bow Front One Shoulder Jersey Top 6.Shibuya Mon Amour, Bunny Tank.