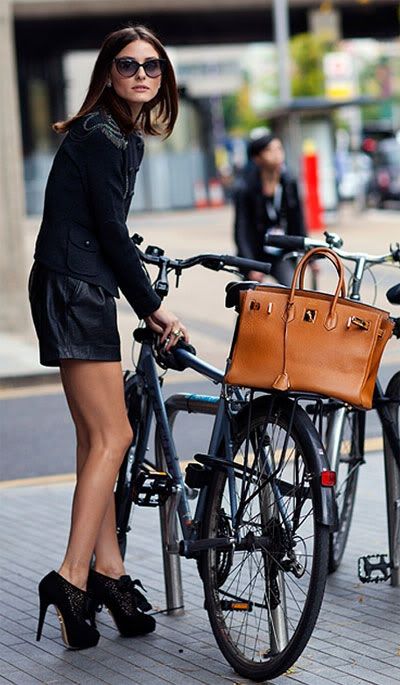 Olivia Palermo apparently riding her bike in style. I love her all black outfit highlighted with the camel Birkin bag. Photo via Sartorialist.
Minimalism and casual style should be the key elements of getting a chic bicycle look. Pair a white shirt with cool boots and some skinny jeans. You cannot go wrong
Photo via Outlier – Suzie Christopher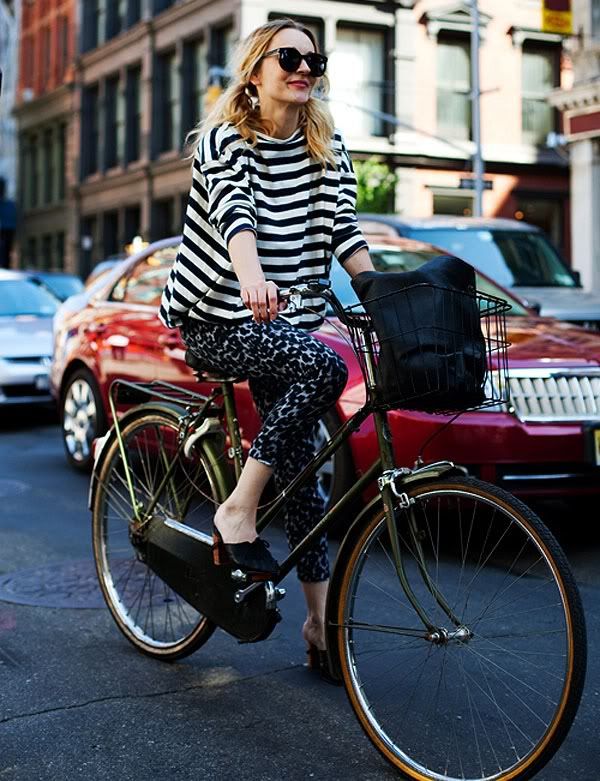 Patterns and prints are very cool when dressing up for a bike ride. Focus on comfortable pieces and obtain a chic effortless look. Love the striped t-shirt. Photo via Fashionising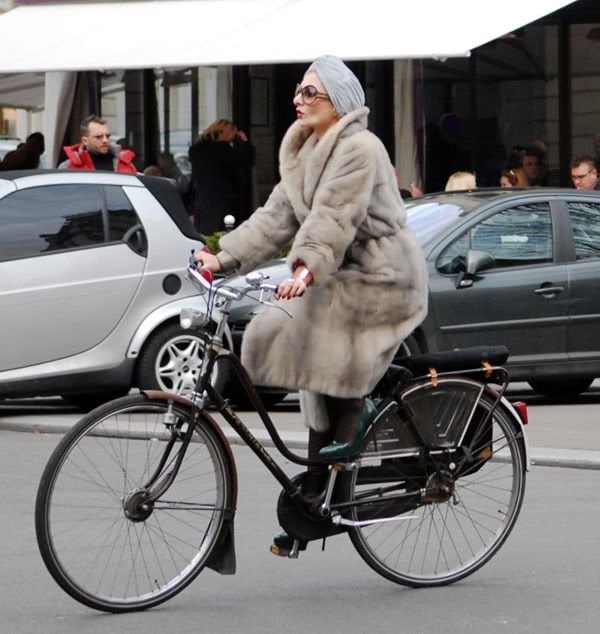 Or you can definitely ride in style! Stylist Catherine Baba shows you how you can pull an elegant look with turban, fur and high heels while going to a fashion show. This is a show stopper right? :)) Photo via Hanneli.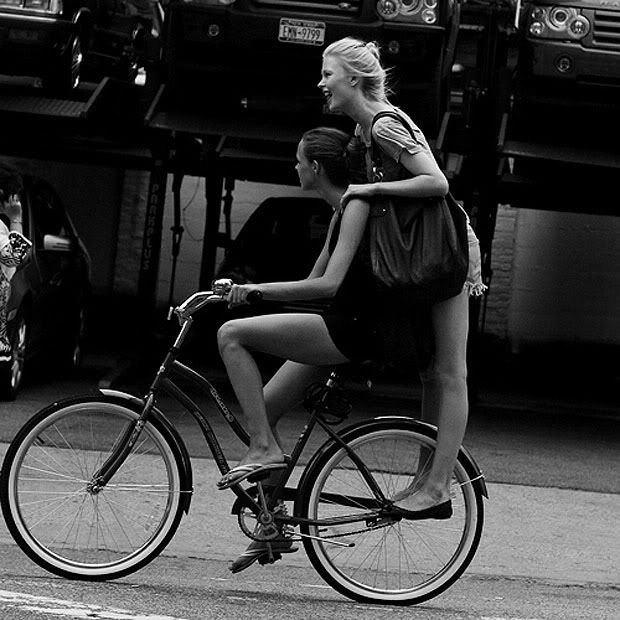 Youth and sexiness. Two attributes that this image conveys. Bike outfits work best with flats and flowing silhouettes. I love this image, it kinda says happiness all over
Photo via Sartorialist
I really like this woman's shoes! The sandal boots are a cool way of dressing up your ankles when riding a bike. I think that these black leather details are so cool while riding a bicycle, just like the motorcycle looks, they add a bit of roughness to the entire ensemble. Photo via Fashionising.
Fashionista Shala Monroque shows us quite the opposite: having a colorful riding outfit is not a bad idea at all. A cute pattern dress and some quirky flats and you are ready to go! Photo via Shalasrabbithole.com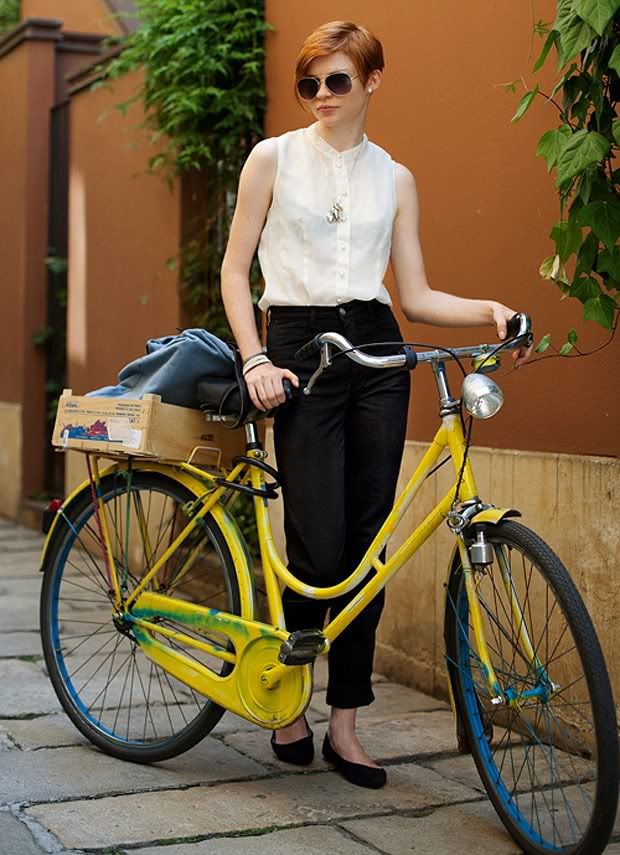 Chic, simple and classy. Photo via Sartorialist.
Match your clothes to your bike? And your nail-polish to your bike accessories?
I think it was just a coincidence, however I cannot stop staring at this photo. The entire scene is so alive. Amazing. Photo via. Fashionising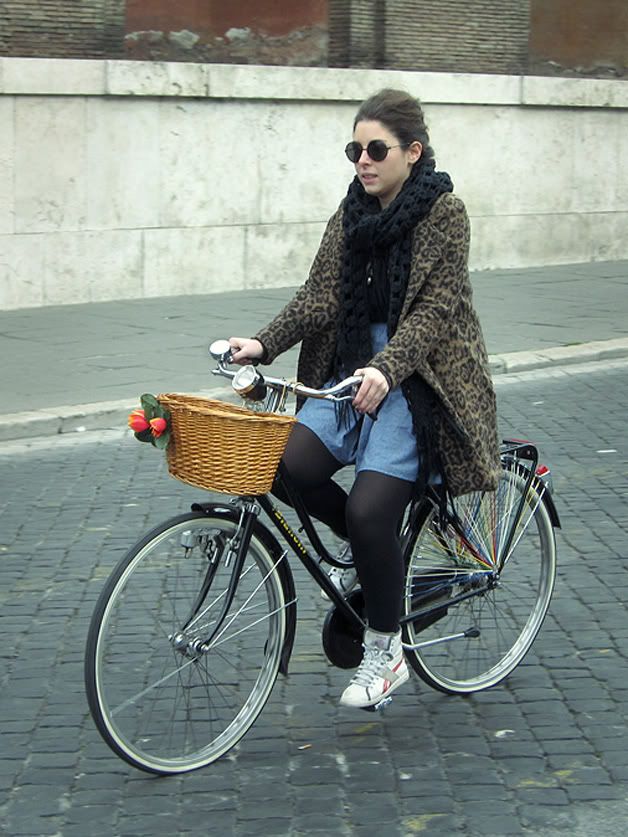 This was shot by me in Rome, Italy last month. I liked that this girl had style even if she was wearing tall sneakers. Love her coat!
To end this article in a bright sunny mood, I would like to present the ultimate inspiration. White Tee & Shorts mixed with a loose scarf. Amazing look and girl. Photo by Garance Dore.