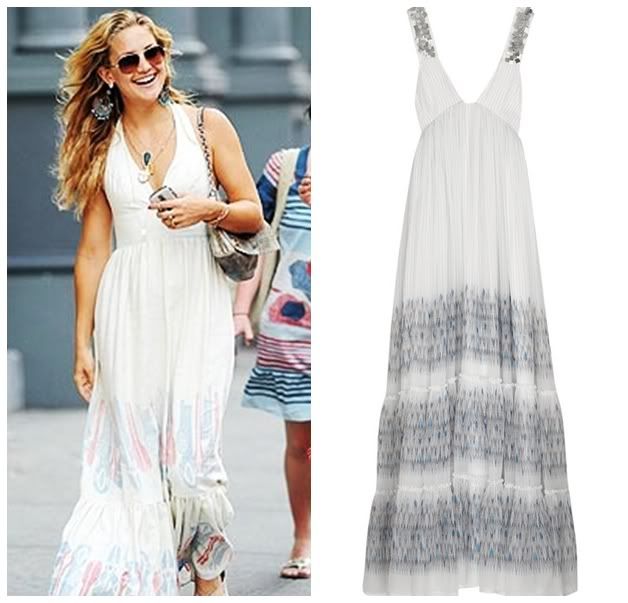 Kate Hudson – Photo : People.com, Thomas Wylde – Alazan Maxi dress : Net-a-Porter.com
Do you know how to pick the perfect maxi dress ?
I am actually really freaked out about the maxi dress but I try to keep it together and present this as objectively as I can. The maxi dress trend has started to rise again last summer and it's going to be big this season (as trends always have one year for launch and one for adoption) . I have been reluctant about this trend because I am petite and I felt that a maxi dress would cover me up completely and I'd look like a blanket.
No wonder I was scared!!! But yesterday I visited some stores and I tried it on just for fun. I had some wedges on, so I guess this helped, but the result was really cool! Maxi dresses are not what they used to be when our mothers wore them. Today we have tons of options and figure-flattering styles.
For example, if you are short you can choose a more structured type of dress. Try to reduce ruffles and extra beading, go for more simple styles. Empire waist is ok, unless the dress has too much volume. Even if you choose a strapless dress the options are generous and the patterns can combine abstract details, ethnic prints or floral prints.
If you are tall you have absolute freedom to experiment with the lenght of the dress but be careful with the shoes. Choose flat sandals or gladiators and an ankle lenght dress, this will make you have a ballanced look. Also, try to wear your hair down or in a casual bun.
Wear the casual maxi dress with :
Gladiators or wedges

Cropped jeans jacket

Bohemian Jewelry

A Beach Hat

Messenger Bag
Left : Floral Eyelet Maxi Dress – Forever21 Centre : Striped Floral Maxi Dress – Forever21 Right : Chiffon Feather Maxi Dress – Forever21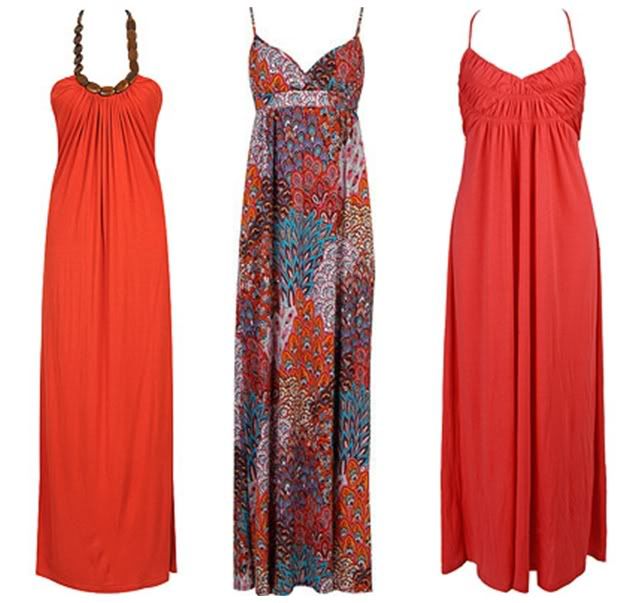 Left: Wooden Bead Maxi Dress Forever21 Centre: Scallop Printed Maxi Dress Forever21 Right : Paulina Maxi Dress Forever21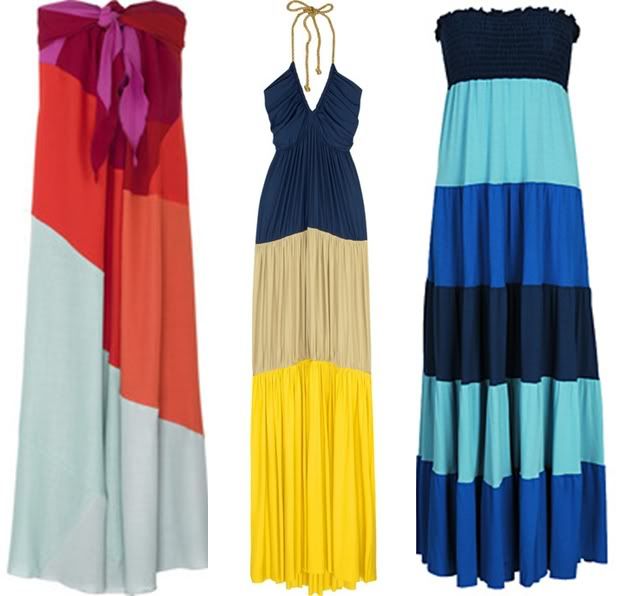 Left: Chris Benz, Cameron floor length dress – Net-a-Porter Center: T-bags Block color maxi dress Net-a-Porter Right: Color Block Strapless Maxi Dress Forever21