The jeans or jean how they are recently called, are making a casual comeback this year. Colors get lighter and acid washed and we start having fun with them. Their shape varies from skinny, flare or wide legged.
The chopped, ripped, shredded or torn jeans are really popular this season. Celebrities love them and embraced them since last year, for exmple Lauren Conrad wears a skinny pair of Siwy's. To get the look be careful not to become scruffy wearing them, so mix them with a cool clean shirt or Tee. True Religion Joey flared jeans are really great and they have quite a flattering shape. Think I'm gonna buy a pair even though I'm a big skinny jeans fan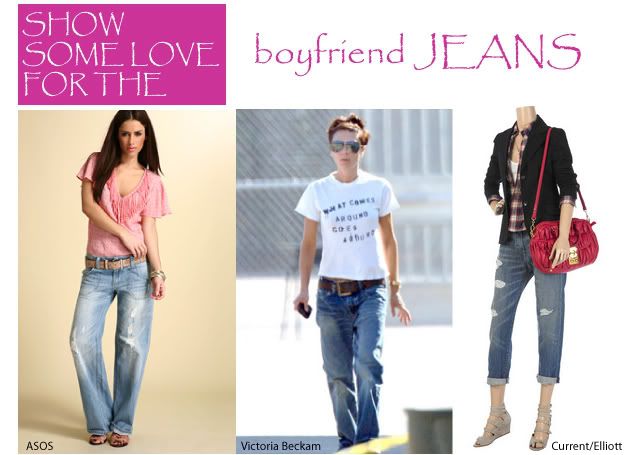 Victoria Beackam wears casual jeans !? I never thought I would see this. However, the boyfriend jeans trend is rising high this season and you'd probably want to keep an eye on this trend. You can wear them with flats or heels and they're perfect during the day or at night on the town. I love the Ripped Bleach Wash Boyfriend Jean from ASOS because they look perfect with a tucked in shirt. The Current/ Elliott Boyfriend jeans make a casual statement when worn with a plaid shirt and a slim blazer.