Jeans trends this season are somewhat predictable: mostly skinny jeans are cool and ankle lenght is hot too. Dark colors are also the thing to wear this fall and I assume 2009-2010 is a great year to show off great ankle boots or long sexy booties. Hillary Duff tries a classic flared pair of navy/black jeans for fall 2009 while Jessica Szohr, Gossip Girl star chooses a lighter ink splash skinny pair of jeans. I love Sienna Miller's jeans and I love how she matched the jeans with the loose studded caramel booties. Very cool for a casual look!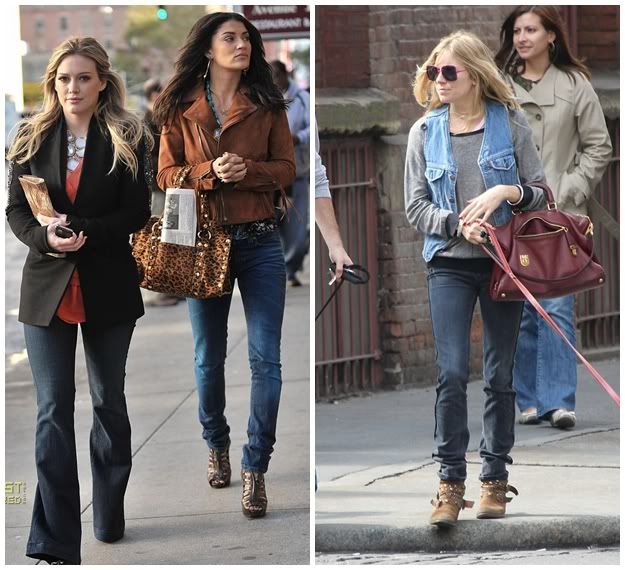 (images: justjared.buzznet.com)
The webshops are quite stuffed of cool jeans so I think it's all comes down to what to really like and what suits you well. I am eager of trying grey jeans, acid wash and tie-dye. The color palette for fall is usually darker and deeper so dark grey is a totally must-have this season.
1. J Brand – Acid wash skinny jeans, $180, net-a-porter 2. Current/Elliott's skinny jeans $240, net-a-porter 3. BDG Ankle-Length Cigarette Jean, $64.00 UrbanOutfitters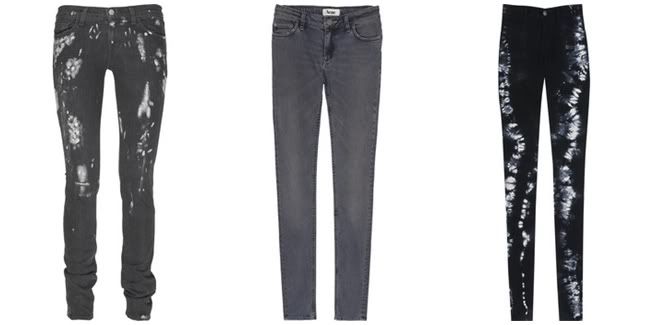 Left: J brand, $240, net-a-porter Center: ACNE- Kex Fade skinny jeans, $300, net-a-porter Right: J Brand – Tie-dye skinny jeans, $235, net-a-porter