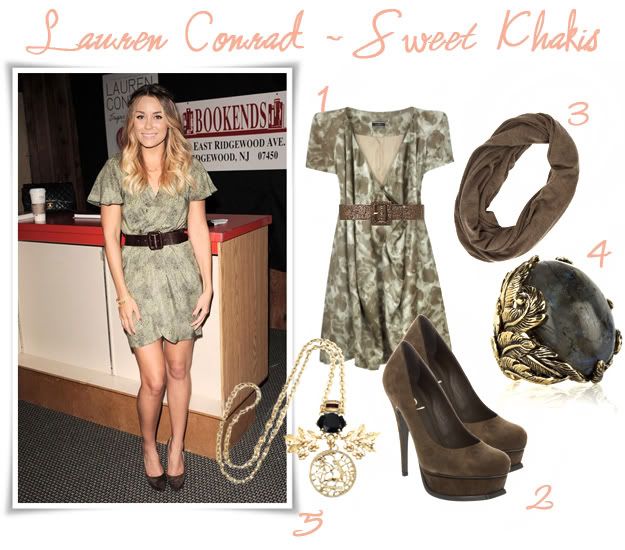 I absolutely love this khaki – dark chocolate – gold colour mix on Lauren Conrad!
As you may probably know by now khakis and browns are so IN right now! I also assume you've all seen the dozens of military chic options everywhere in stores, so I think this outfit is a good inspiration for all of us.
Lauren mixed a paterned khaki casual dress from Boule's with a pair of dark chocolate Christian Louboutin pumps and wrapped up the whole look with a chic belt in the same color as the shoes.
Regarding her accessories, I have to be honest and say that the bracelet she chose was probably the best option considering the event she attended was during the day and the whole set was friendly and casual. I really think golden accesorries are especially chic on her now because she has those blonde highlights and all that, but also because they go perfectly with the colour scheme of the whole outfit.
I looked around the stores and found tons of ways in which you can accessorize this outfit if you want to adjust it for evening or for a dressier event. My personal tip would be to wear with a chic leather jacket in dark brown and maybe an oversized cocktail ring.
I found the following options:
1. Tengira The Leaves Dress -$470 By Malene Birger on My-Wardrobe 2. YVES SAINT LAURENT – Square toed platform shoe – $ 809 on Farfetch.com 3. Chestnut Cashmere Mix Snood – $153 – American Vintage on My-Wardrobe 4. Oversized labradorite ring -$400- Roberto Cavalli on Net-a-Porter 5. Gold-plated leaf and skull pendant necklace – $520 – Mawi on Net-a-Porter