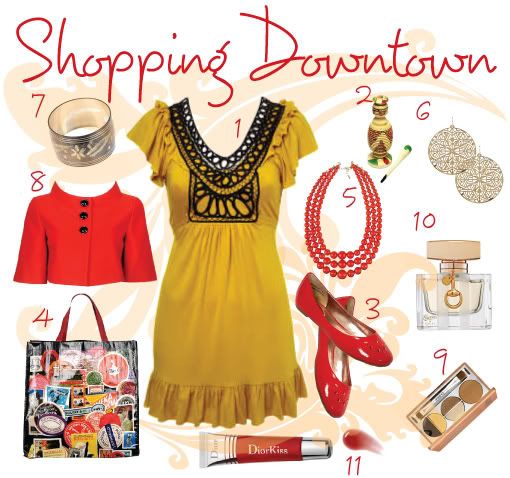 Hey girls!
It's saturday and it's the perfect day to hit the mall. You can get in trends with this Global inspired outfit. The tote is really cool and it's good money value. The ballet flats are very IN this season and so is the golden-copper makeup.
1. I totally love the color of this "Ocre Applique" Dress from Miss Selfridge 2. Rustic Coloured Kohl from Lush 3. Red Cut out Flats available at Rampage 4.World Shopper Tote.jpg 5. Triple bead necklace 6. Golden Snowflake Earrings 7. Engraved Bangle 8. Lindsay Trapeze Jacket all from Forever21 9. Du Wop – Amber Eyes Eyeshadow 10. Gucci by Gucci Eau de Toilette 11. Dior – Shimmering Peach Toffee Lipgloss available at Sephora.
Hope you get a good bargain
Kisses!