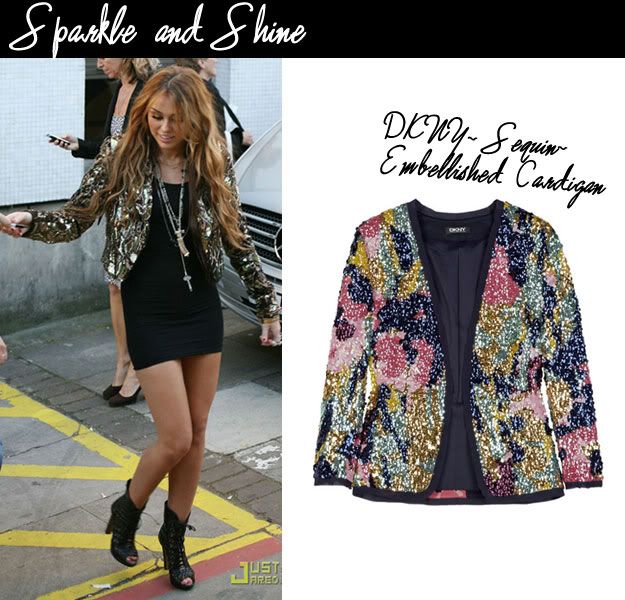 Motor boots available here, Cardigan available at : Net-A-Porter – DKNY sequin-embellished Cardigan,

photo credits : justjared.buzznet.com

Considering the impressive amount of requests I am getting regarding Miley Cyrus inspired-looks, I have decided to showcase some of the coolest outfits of this teenage rock muse.
While browsing for all these looks that you can see all in detail bellow, I was actually thinking I kind of like her style. Yes, it's all "LA babe", "rock-chic" and all that, but at the end of the day I actually see that most of her outfits are very cool and great options to inspire other teens. (except maybe for the distressed stockings she wears from time to time 😀 )
Miley's style is both very young and fresh. She usually rocks both casual daytime looks with comfy shoes and other basics, but she can also dress it up with layers of accessories, edgy heels or rock inspired items. I also think she has been in the Hollywood scene for quite some time now and this gives her way more self-confidence than other rock princesses like Taylor Momsen for example. This is why maybe she sometimes is very put together but other times you can see her just in a plain t-shirt or ripped denims, UGGs or flip-flops.
But let's get serious! You have bellow my top choices for Miley Cyrus inspired outfits. I really like how she mixes white simple tanks with awesome cardigans for a chic relaxed look but she can also wear cardigans as a stage outfit. This requires some embellishments in order to serve the ocasion but other than that the same rule applies : wear with basics.
Shoes – Asos – Leather Clogs Slingback Shoes $93.00, Jeans – Bebe – Euro Distressed Skinny Jean, $89.00, Neckace – Juicy Couture – Drama Butterfly Necklace $111.00, Cardigan – Jane Norman – Striped cap sleeve ribbed cardigan, Bag – Debenhams – Gold 'Roxy' across body bag, Nail polish – OPI.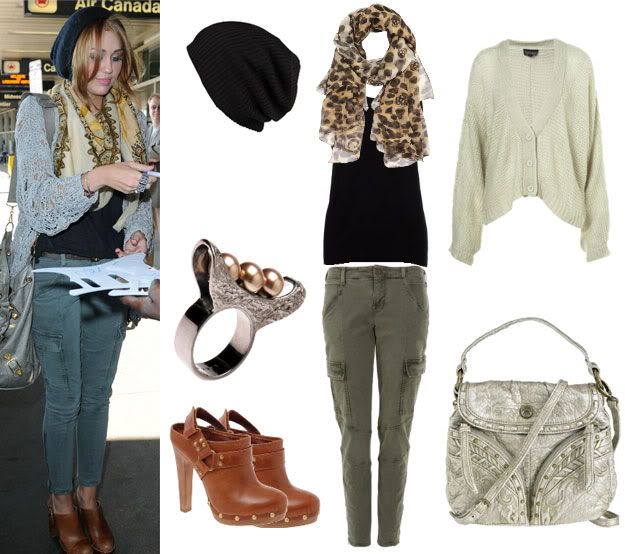 Tank – Acne – 'Belief' Lyocell tank, Cardigan – Topshop – Knitted Fluffy Boxy Cardigan, Scarf – net-a-porter – Alexander McQueen Leopard skull silk-chiffon scarf, Jeans – farfetch.com – J Brand Skinny 'Houlihan' cargo jean, Bag – Debenhams – Gold 'Roxy' across body bag, Shoes – Asos – Leather Clogs Slingback Shoes $93.00
Cut-out boots available here,
Cool Cardigans : 1. Forever21– Scalloped Leaflet Cardigan $19.80, 2. Net-A-Porter – Malene Birger Cardigan, 3. Forever21 – Retro Twist Cardigan $24.80 4. Net-A-Porter – Anna Sui Cardigan
ASOS – Oasis Intarsia Heart Longline Cardigan $76.09, Net-A-Porter – Clements Ribeiro Pink Cardigan, Net-a-Porter – Stella McCartney's black sequined Cardigan