Later Update 2011-2012 – New Years Best party Dresses
More New Year's Eve Dresses: 30 Hottest New Year's Eve dresses 2010-2011
New Year's Eve is knocking on our door and there's no time to waste. I picked out some of the most trendy outfits to wear for New Year's or to other winter cocktail parties .
The Pink Dress
and
The Black Corset Dress
are some very good clothing investments as they can be worn after New Year's for other events. Satin dresses are a big hit at any party because they have a glamorous look and they go well with any accessories. You can choose a strapless shorter dress or a more structured outfit with a corset dress. They're really unexpensive and available on
Forever21
.
The shoes are a key accessory to pull off any outfit. You can wear peep-toes or some really special sandals. Because it's winter I would choose opaque leg-wear with black sandal boots from
Topshop
or some sophisticated or some
Contrast Pattern Shoes
.
The
Embellished Bag
and the
Sequin Bag
are a big trend this season and they are perfect for any party. They should match the style of the dress or they must be complented by other gems or sequins from your outfit.
Jewelry can be minimized to only one major piece. Try a cuff bracelet from
Forever21
or a mosaic shiny
bangle
from Oli.

Related articles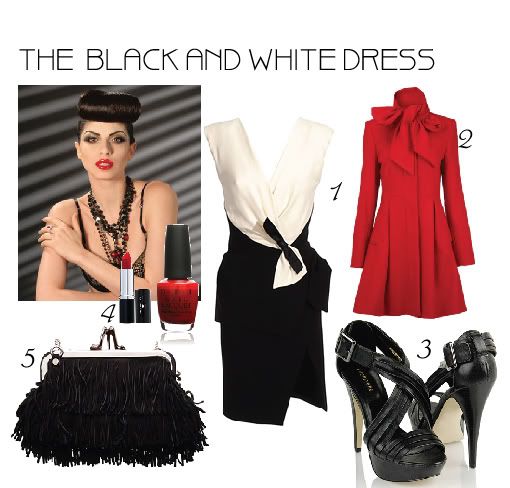 White Cocktail Dress Top Cocktail Dresses Little Black Dress Outfits