I recently came across CWtv's hot series Privileged and I absolutely loved it! I find myself laughing and living every second of it. But besides the story and the drama, the style of the characters is amazing. Rose and Sage Baker played by Lucy Hale and Ashley Newbrough are the perfect fashionistas, so glamorous even when going to school. Joanna Garcia plays the role of Megan Smith and manages to enchant us with her casual chic outfits and especially with her tutor-girl attitude.
The show is not as focussed on socialite life as Gossip Girl and has more of an L.A. relaxed apraoch on lifestyle and fashion. But still, I love the clothes and all the outfits are amazing!
Rose wears neons and metallics almost every time. She has a playful personality and she can usually pull off short tops or really short skirts. To get her look choose a strapless dress and some shinny heels. Accessories are really a big deal and be sure to wear a glamorous headband and maybe lots of jewelry.
1.Strapless Floral Linen Dress, $24.80, Forever21.com 2. Red Jewels Headband, $7.99, Tano Jewelry.com 3. Adore bag by Bulga, SimplySoles.com 4. Runway Collection Gold Alligator Sandals 5. MARC JACOBS – 'Wayfarer' Style Sunglasses, $250, Farfetch.com 6. Gypsy bangles, $50, Tejani Jewlery.com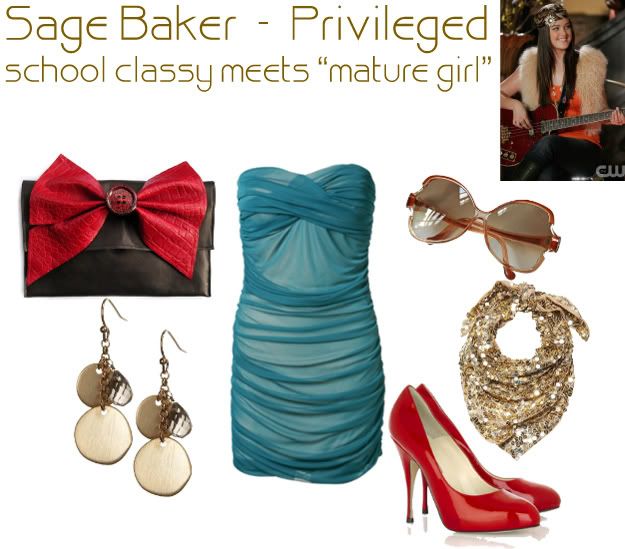 Sage Baker brings a more tense style to Privileged. Although, she still rocks a spoiled rich girl look, Sage is more confident and diva like so she ditches heavy accessories and usually chooses a few statement pieces. If you like her look, choose bold colored stilettos and exatravagant headbands. I've seen her dressed in skinny jeans and cropped preppy blazers and they both work great.
1. Ruched Tube Dress, $16.49, Charlotte Russe 2. Brigitte Bardot Oversized Sunglasses, £85.00, Love-worn.com 3.Sequin Triangle Scarf, Topshop 4. Coin drop earring, $34, Banana Republic 5. Leather Bow and Button Clutch Bag by Dazed Dorothy,$60, Hanna Hzakari 6. Brian Atwood Tonya Patent Pumps, Net-a-porter.
Don't miss Megan's outfits, tomorow!