Spring 2011 focuses on freedom of expression and of movements, a color symphony and the best accessories out there. Prom dresses are part of the fashion scene for a while now and it is now easier than ever to search for inspiration everywhere around. The web is full of fabulous red-carpet looks and tons of examples, not to mention the large variety of online stores which include even virtual makeovers!
I really believe that the runway looks and trends for Spring 2011 and the stars outfits are the major inspirations when choosing a dress. This way you can get a feeling of how a particular shade or silhouette fits and you can also read reviews to see if the particular dress had a big impact among the audience and will be suitable as your Prom Dress.
The main prom dress trends that I've identified for 2011 are focused on 4 big pillars: soft tones, classic lines, abstract prints and bold colors.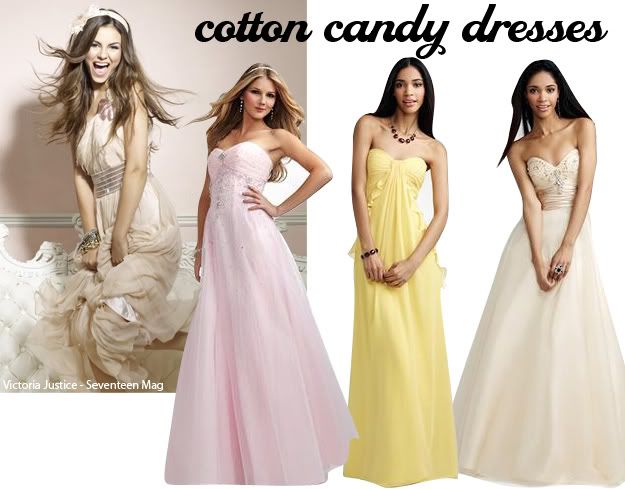 Strapless Tulle Ball Gown with Beaded Bodice – Chiffon Gown with Cascading Ruffle Detail – Beaded Ball Gown with Tulle Skirt
Soft pinks, light peach and yellow, white, nude, beige are the top ingredients to achieve the Cotton Candy look. You can by now imagine that the princess type of dress is the most popular in this category, but you can also get it right by choosing a simple flowing gown that will make you look like a goddess.
Sleeveless Jersey Dress with Beaded X-Back – Floral One Shoulder Silky Knit Pleated Gown
Old Hollywod Glamour is the second big trend that I've identified for party dresses in 2011. Rihanna works this look very well, the Burgundy lace dress by Elie Saab is a very good choice as it highlights her silhouette and defines her hourglass shape. Prom dresses can also be adjusted and embellished so you can easily get that classic, Hollywood elegance. Red, black or white are my top recommendations because I think they are very powerful and versatile tones. If you are bold you can choose a black and white dress, this is quite a timeless statement piece!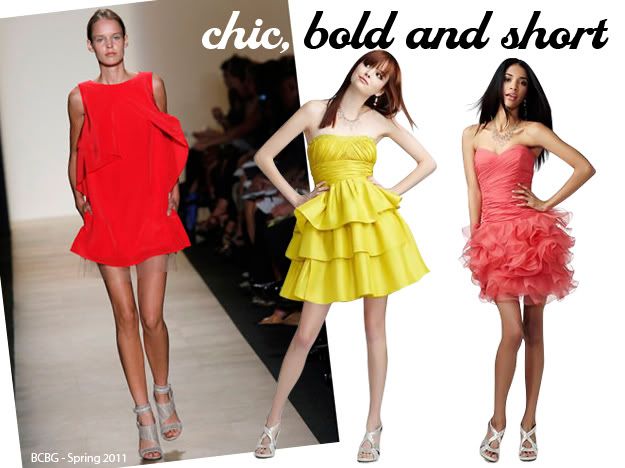 Short Strapless Beaded Taffeta Tiered Dress – Short Strapless Dress with Organza Ruffle Skirt
Bold and Short is the next trend that I love for dress trends in 2011. Coral, cyan, pink, purple, magenta, electric red, emerald or citrus shades are all very much allowed this season! Try short volumetric designs with ruffles and tulle which give you a flirty attitude. Bold shades usually go with metallics so be sure you accessorize properly.
Silky Knit Print Tank Dress with Beaded Waist – One Shoulder Stretch Satin Multi Print Gown
One of the most powerful trends on the runways for awhile now are The Prints. Even if you have a floral printed dress, animal print or abstract, you will definitely make a statement by wearing this type of dress. I think that this is also a bold choice as prints are not necessarily very easy to wear, be sure to balance your outfit and don't go overboard with heavy accessories.