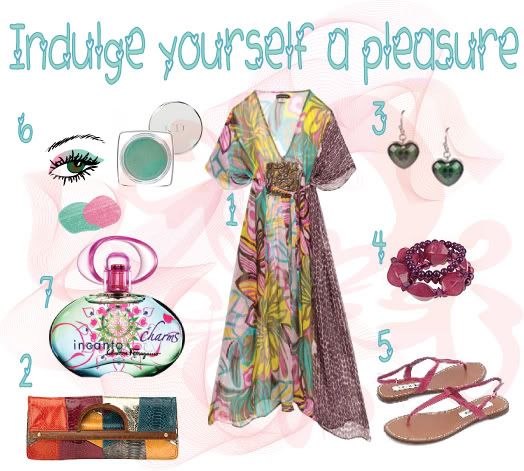 Now it's Monday….the next second it's Friday. We tend to get so wrapped up in work or other problems that we forget we are human and we have feelings and needs and friends and …oh… WE SHOULD HAVE A LIFE!
This outfit has a relaxing string attached, so you will feel great and confortable wearing it but you will also look very sexy and feminine. Dresses are the best fashion choices of the season (in fact of all the seasons!) so, you should get used to differnet lenghts and styles for day/evening occasions.
1. Multicoloured Printed Kaftan Dress – Antik Batik available on MyWardrobe. 2. Extreme Exotic Fold Over Clutch from NineWest 3. Button Heart Earrings on 4. Beaded Bracelet Set all from Forever21. 5. Steve Madden Seeri Flats available on CutesyGirl.
I also suggested some makeup because smoky eyes are getting old and so fresh makeup is so welcomed
So, Teal Blue and Pink shimmer gives you a fresh attitude. And, so does the fragrance! Salvatore Ferragamo- Incanto Charms lights up your day with its fruity-floral notes of passion fruit, honeysuckle, and jasmine. Both from Sephora.
Have a nice Sunday!