Last night it was different from other parties… I was out there wanting to have fun like I used too, but deep down…I was lonely. I missed something, maybe I've grown up, maybe I'm too serious and bored… at least something was great: my style
Money can't buy happiness, but sometimes nice "clothies" can make you feel better. Today I wanna read something…I wanna stay indoors chilling like a movie star :D:D
You should enjoy a bit of selfishness yourself… it can't hurt can it?!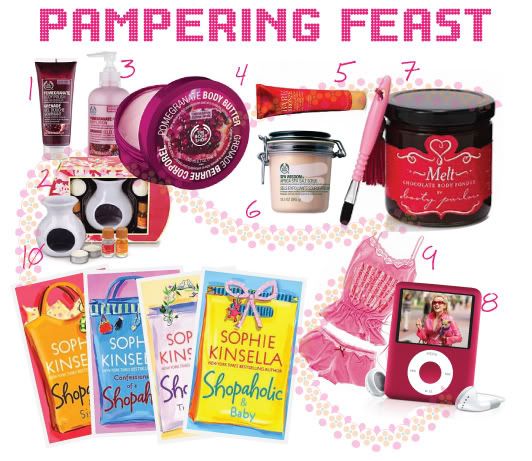 1. Pomegranate Body Polish 2. Home Fragrance Burning Desires Gift 3. Pomegranate Body Puree 4. Pomegranate Body Butter 5. Spa Wisdom Africa Spa Salt Scrub – all from The Body Shop 6. Bare Bronze Collection – Self Body Tan 7. Booty Parlor Melt Chocolate Body Fondue 8.Sista Shei, Lace-trim cami – all from Victoria's Secret 9. iPod nano- Pink – Apple10. Sophie Kinsella – Shopaholic Book Collection – Barnes and Noble.
See you tomorrow all fresh and peachy!