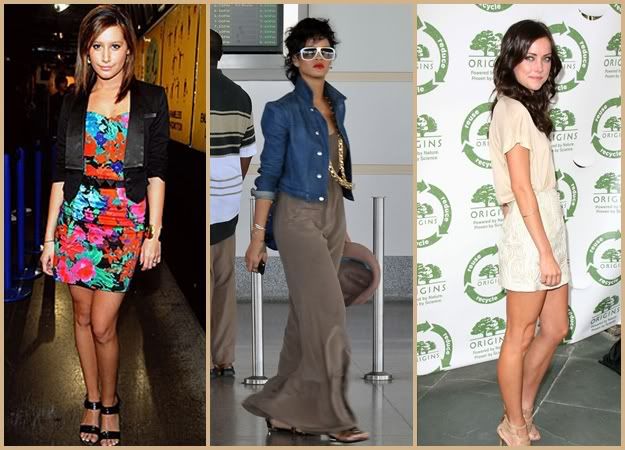 I think we all turn to stars when we want a little inspiration for outfits even though we don't always afford all the glamorous styles we can easily shop a look for less and get to be walking in their shoes. My friends are always telling me they just loooove Rihanna's style or Vanessa Hudgens' look and they are dying to see new pictures with them.
I've picked these 3 gorgeous ladies because, in my opinion they are representing the real-life styles that can easily upgrade your spring closet as key-pieces of this season. We all know by now that Rihanna is the ultimate style-princess, but I really love Ashley Tisdale's outfit and Jessica Stroup's sweet pastel look.
Rihanna rocks the casual maxi dress worn with a tiny jeans jacket and an oversized neckalace. The dress has an amzing color, kind of "safari chic" and you can easily wear it with sparkly gladiators or other flats.
Ashley Tisdale has this colorful and eye-catchy dress, the colors are so bright and alive. Both her and Jessica Stroup choose to wear sexy heels and sexy minis. The cropped blazer is a terrific option and you can be in shape for every lunch meeting whereas the sexy sheer shirt with a small bow can drift your outfit towards the evening in case you want to grab a drink after work.
I. The Floral Dress
II. The Cropped Jacket
III. Gorgeous Statement Shoes
IV. Pastel tones