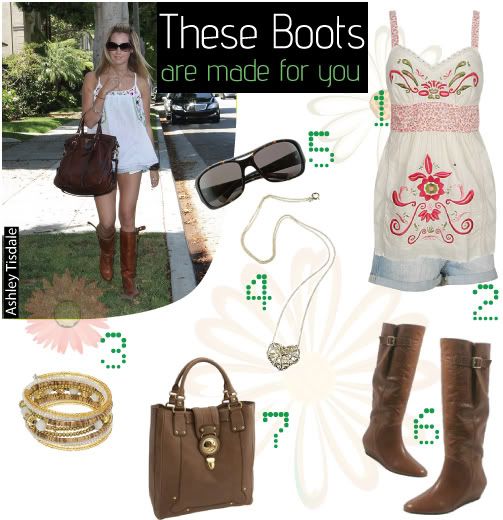 Even if the sun is deeply shining sometimes our outfit has nothing to do with the temperature outside. For example, there are a lot of summer boots, peep toe booties and scarves that can be worn very nicely during summer.
Summer boots should be light and cool and usually made from suede or soft leather. You should be a little careful and check if the inside it's leather or any other breathable fabric. Even if you still have your Ugg's or you go for something sexier, boots or booties can be a good alternative.
Match your boots with a pair of shorts and some tanned legs like Ashley Tisdale here. Wearing a pair of summer boots if quite a bold choice so, if you don't feel good about yourself then go for some ballet flats or flip-flops.
1. Embroidered Floral Top 2. Mori Denim Short 3. Coil Bead Bracelet all available on Forever21 4. Silver Heart Pendant 5. DKNY Sunglasses both from OLI 6. Juicy Couture 'Medallion Estate' Vertical Tote from Nordstrom 7. COGNAC Intyce boots from Steve Madden