Fruit Earring Set – $4 – Charlotte Russe OBEY – S.S. Obey Earrings $38 – 80s Purple Harmony Earrings $15- Coast Stores
What a nicer way to start the day than with a couple of chic accessories. Summertime is the perfect season to wear fashion jewelry and to add color and glam to your outfits. There are tons of treasure looking earrings out there but try to step away from the ordinary hoops or simple silver stoned ones. Be creative this summer and try some bright fun options.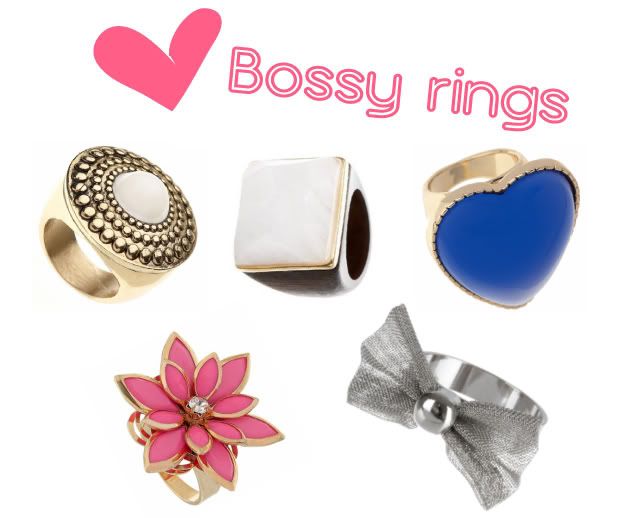 Gold Studded Set Ring £4.00 – Miss Selfridge Dolomite Stone Ring $98 – Bebe Blue Heart Stone Ring £8.00 – Miss Selfridge Gold Tone Edged Flower Ring £8.00 – Miss Selfridge Mesh Bow Tie Ring $4 – Charlotte Russe
Rings can be a great way to catch the eyes fast. Our hands are constantly moving and explaining so people are generally focusing a lot on them. If you choose a statement ring be sure not to go overboard with a neon nail-polish because it can look cheap. Better go for natural pink / beige shades and this way your ring will be the main focus. Summer ring trends are focused on large stones, studs, geometrical shapes or floral detailing.

Lisbon Necklace $16- Coast Stores Square disc necklace $25 – Coast Stores Louise Necklace $32- Coast Stores Heart Flower Necklace £10.00 – Miss Selfridge
Statement necklaces are my favorite accessories this summer. Forget long simple pearl necklaces because they are over. This season we are talking about short and chunky. Go for metallic shades or neon floral necklaces and you'll definitely feel the magic of summer !