My current obsession is LEMONADE, or better CITRONADE :))
I just love these colors, they are so fresh and alive, so mouth-watering! In fact, the citron print has been very popular on the runways as well. Brands such as Moschino Cheap & Chic or Day Birger and Mikkelsen pioneered the colors and also the lemon prints in their summer 2011 collections and since then, it has all bloomed. Or, so to say…the lemon has been squeezed
I think orange, yellow, lime or bright orange are the star colors of the summer season, besides the white and coral, of course. I really love Blake Lively's outfit in her Glamour photo-shooting, soft white and orange is a perfect mix, so very feminine and fresh. I think this goes for the electric yellow dress which resonates so well with the bright summer sun.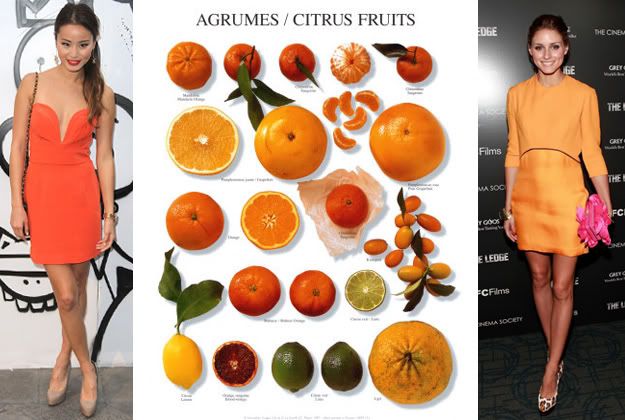 Jamie Chung Lexington and Olivia Palermo wearing the signature citrus shades. You can get more inspiration from the citrus palette. Fun right?
As a general style rule, I would wear these citron shades with neutrals, so white and beige for a classy effect, however if you try brights in the evening you can most definitely choose a second bold accent such as electric blue, fuchsia or even gold – like in Brittany Snow's outfit.
Have a Summer Lemonade!
Lizzie.