The seasons are knocking on our doors and we should always be prepared with something to wear. You never know when you get an invite to THE party and you have nothing to wear. I've created a list with TOP dress choices for this season. You can look glam and be on top of trends.
The best choice is always the black dress. Even if you think it's did and done, you can always reinvent it. Accessorize with some amazing shoes and be an elegant diva. You can choose something that suits your shape and you can even go back in time and rediscover shining trends from the 50s or 70s.
1. MINT Jodi Arnold Greta silk dress from NET-A-PORTER 2. Golden Bracelets from Forever21 3. Jewelled Sexy Peep Toes available on Nine West 4. Valentino perfume Rock`n`Rose Couture from Fragnatica 5. "Pink is the Link" Nailpolish from Essie , Cream shadow in Glampagne, Victoria's Secret Beauty Rush, Victoria's Secret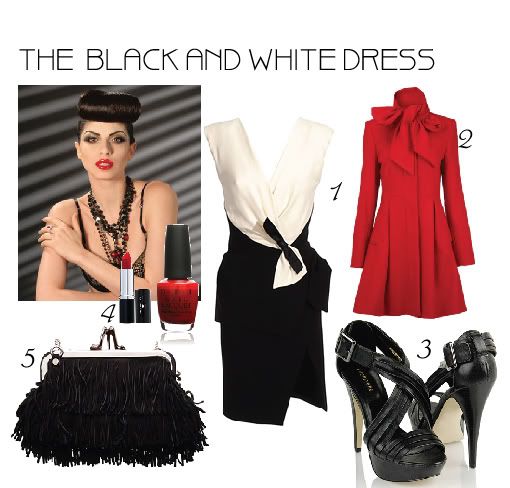 If you don't want to look too serious wearing just black, you can pump up the style with a black and white combination. Use an intense shade of red to look glamorous or to blend with the season's colors. You should look out for the type of dress you choose, make sure not to over-try wearing it. Forget the stripes and go for something simple and chic.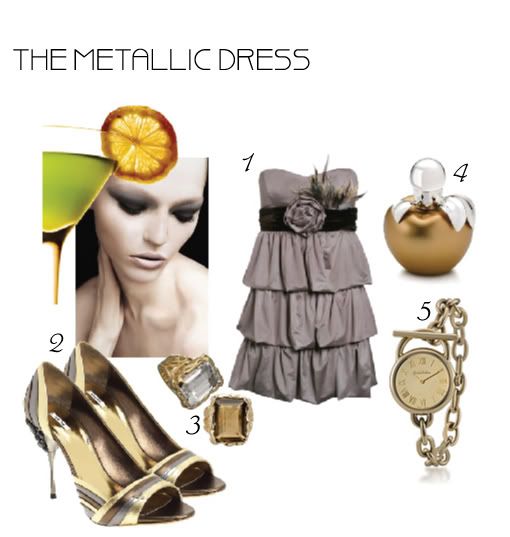 One of the smartest way to look good at a party is to shine!! :). Metallics are really hot this winter and you should make the most of them. Go for bronze, champagne, gold and silver to cheer the holidays. Still, be careful not to look like a Christmas decoration. Focus on the accessories and you're good to go.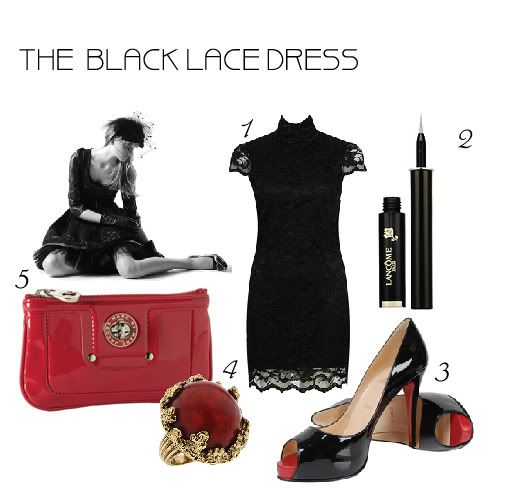 A lace dress works perfectly for holiday parties because it never goes out of style. It can get you through a family party or even an office cocktail. Use clasic makeup that highlights your natural beauty like mascara or a liquid eyeliner. Don't forget to wear heels and a special purse. You shouldn't wear too much jewelry because it would make the outfit look very detailed.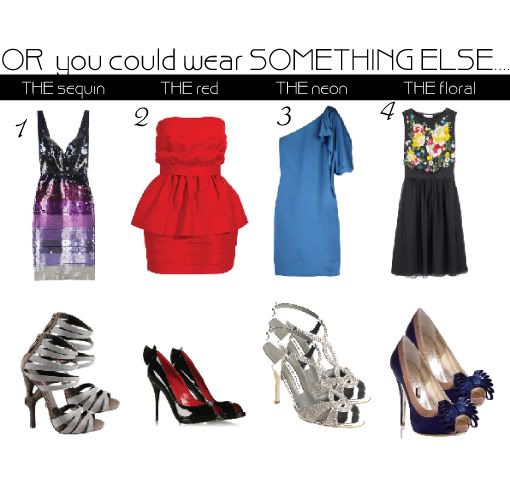 However if you want to be remembered like the hottest person at the party you should brake some rules and check out some hot trends. Choose a sequin dress or be a red dress diva! Choose mettalic sandals to complete your look. Neons are still on for this season, so what are you waiting for? My favourite though, remains the floral pattern dress with a gorgeous pair of peep-toes.
What would you wear?