A few weeks ago, while in search of inspiration, trends and meaningful examples to share, I ran into this surprising blog. It seemed to have a common approach to post photos of outfits worn on different days, with some links towards the brand websites.
However, while scrolling down something weird just happened to me. Curiosity stroke me and made me discover more and to wait for a new outfit every day. It happens that this "Katie" is not as the usual Katies out there, it actually happens that she is truly a fashionista! I don't really know if this is a personal blog or something more, but I guaranty that this website will amaze you : What Katie Wore.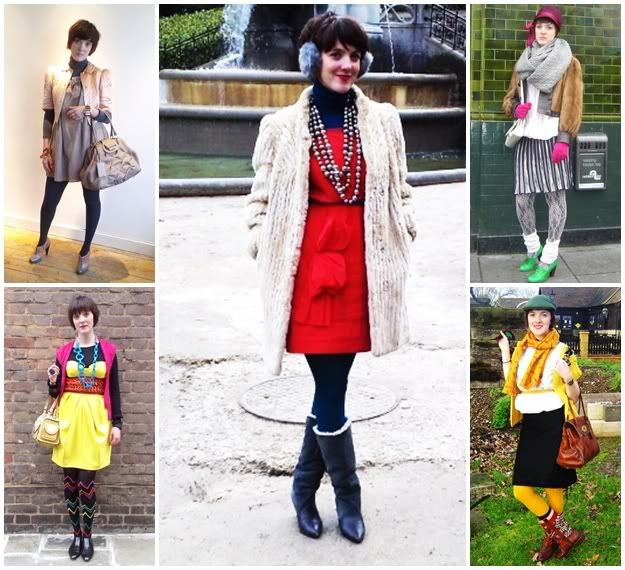 Katie is this sweet young girl who "looks good in anything" (this is from one of the posts but I have to admit it's rather true ! ). No matter how eccentric her clothes may look, she manages to pull off these incredibly colorful and powerful outfits. As I said in some articles before, we can learn a lot just by watching people with great style. It is actually quite instructive to see how Katie wears neon colored thighs, oversized jewelry or short spring jackets.
There are also tons of other fantastic examples of how to combine fashion forward pricey pieces (Chanel, United Nude, Escada or Bulgari) with urban cheap options (Topshop, Accessorize, Urban or H&M). I even discovered brands I didn't even know existed so I'm really thankful for that
Another things that I love are the unique accessories. Some of them are modern plastic-made, others are vintage (for example she wears this cool unique necklace made from different old watches). Oh, and I totally became a fan of the checkered thighs ! Apparently Katie has dozens of them as well as many casual chic vests or ankle booties.
You can also get an idea of how to wear the shirt dress trend or the harem pants. I love this blog, you can check it out clicking the link above or on my blogroll. I think it's worth reading from time to time and just getting inspired.