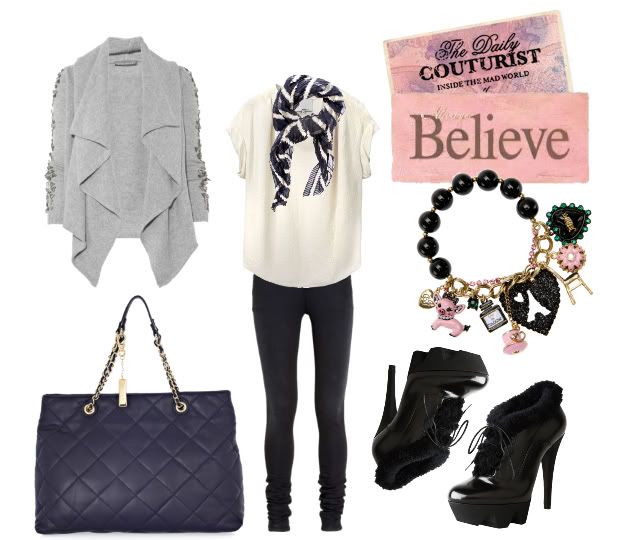 There is nothing more romantic and silent, more tranquil and serene that a foggy day in a vibrating city. It's funny when you think about it. How weather influences us so much, how we feel happier and lighter and how we can have more courage and good spirit when the sun is shining or when it's snowing with big flakes. Today I left for work without being in a big hurry as always (!), so I had the time to dream of the perfect outfit.
I started with these amazing platform booties I have from Victor and Rolf. Even though the size of the platform is bigger the shape of the shoe is so comfortable and they are very cozy with that shearing detailing. You can find them online at La Garconne. The silky top is also from La Garconne, it's by 3.1 Phillip Lim. I love loose tops, they remind me of Lauren Conrad's style and they are so comfortable and 24h chic and I think they highlight you legs so much especially with skinny jeans or leather leggings. My jeans are from Helmut Lang and I've bought them on Net-a-porter. They were $195 but I think they are a very good purchase as I wear them so much, they are very versatile and they help me do the military look so well too.
For the Bag you can spice it up, go for a brighter shade or dress it down, my outfit was daytime oriented so I chose this DKNY lacquered quilted leather tote – you can check it out on Net-a-porter as well. They seem to be having all the cool pieces right?!
The cardigan as well….is my favorite pieces this fall – gray soft and embellished …what more can you ask from Camilla and Marc ? – Buy it from here.
The bracelet and the scarf are the fun pieces of this outfit. The scarf is vintage but the bracelet is Betsey Johnson – not on stock at the moment but have a look at their website…they have looots of stuff : Betsey Johnson.